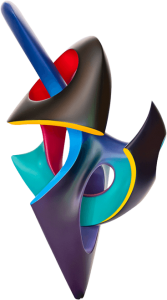 A Phantasm of color and form
The contemporary sculpture
of Robert Segal
Unique in the world
Robert Segal's abstract sculpture is a seamless interplay of space, shape and color brought to life through virtuoso engineering and industrial manufacturing techniques. Each unique 360-degree piece is constructed of high-tech glass-reinforced epoxy with a hollow or polyurethane foam core, finished with a custom solvent-based acrylic lacquer polished to a high gloss.
"In contrast to sculptors who capitalize on the beauty of materials, my sculpture is an expression of pure design, a synthesis of form and color,"
– Segal said of his work.
About the artist
Born in Chicago, Robert became focused on becoming a sculptor at age 13 and studied at the Art Institute of Chicago as a teenager. He honed his mechanical aptitude and inventiveness through work as a commercial sculptor, welder, mold fabricator, machinist, and inventor, learning over the years how the hands can realize the fantastic dimensions of the human imagination. As an artist, he was fascinated by the intersection of design and beauty, ultimately creating his abstract sculpture through a virtuosic blend of art and engineering.
Awards and acclaim
Robert Segal's sculpture has won awards across the country and is held in prestigious private and corporate collections. Each museum-quality piece was crafted by hand in his own studio.