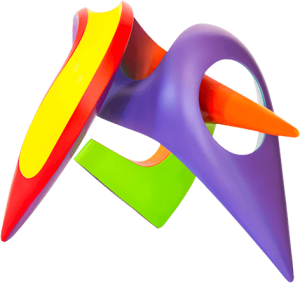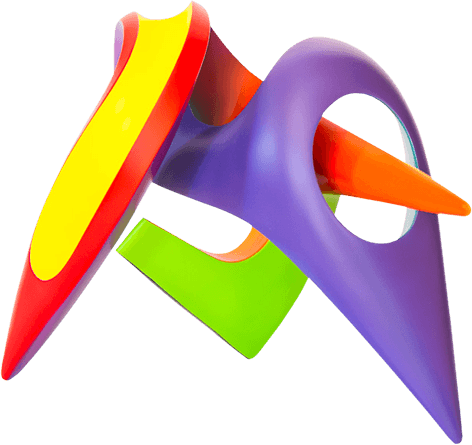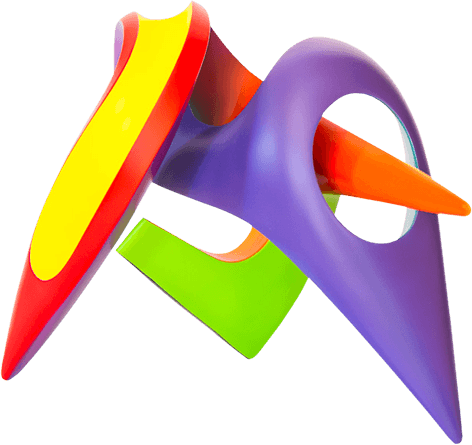 A masterful interplay of form and color
Robert Segal's abstract sculpture is unique in the world.
Each piece is a seamless integration of space, shape and color brought to life through virtuoso engineering and industrial manufacturing techniques.
Angular and geometric, these 360-degree pieces evoke a sense of infinite repetition.
They are held in private and corporate collections and Robert has been recognized at juried art shows throughout the country.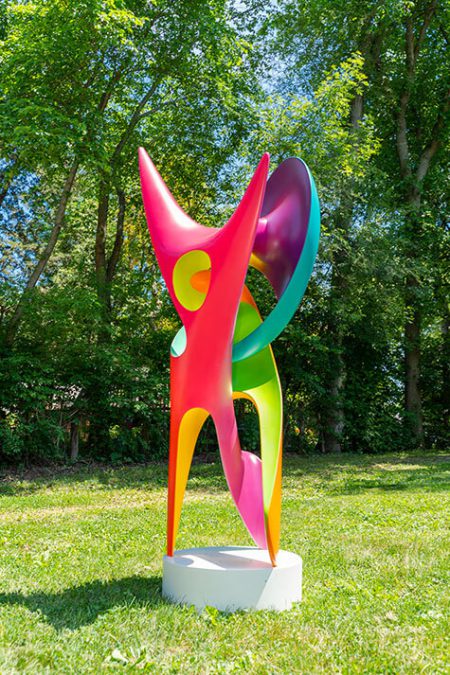 A sculptor's sculptor
Remarkable things happen when raw talent, unwavering vision, and complete dedication collide. This is the spirit of Robert Segal's story.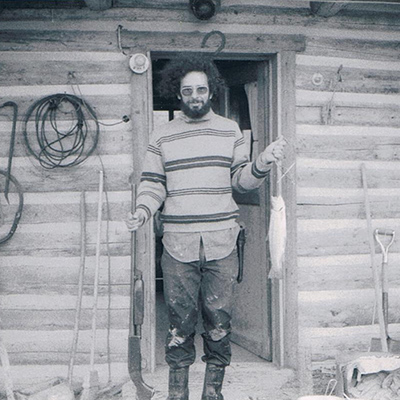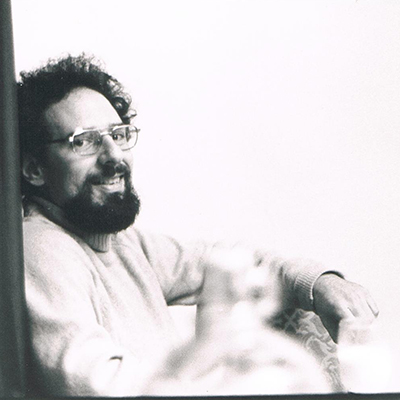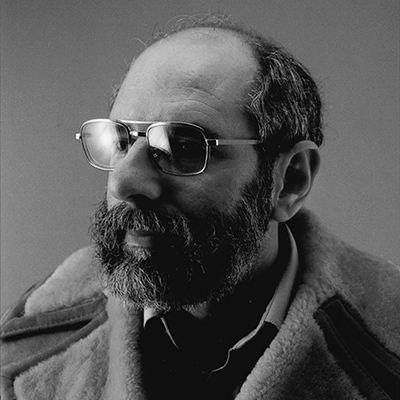 Born in Chicago, Robert became focused on becoming a sculptor at age 13. At 16, he began taking night courses at the Art Institute of Chicago, an experience that brought shape to his early talent. His was not a linear path to the artistic life, though. Independent at a young age, Robert needed to support himself. He left art school and took jobs that gave him an opportunity to earn and learn simultaneously, in which he could hone his mechanical aptitude and inventiveness. Over the years, he worked as a commercial sculptor making models and dioramas. He became an expert welder, mold fabricator, machinist, and inventor. He worked on the crew that built the Chicago Picasso. He built the Lincoln Park Zoo's penguin exhibit. Through these roles, he learned how the hands can realize the fantastic dimensions of the human imagination.
Through it all, he remained focused on his sculptural vision, which he developed in storefront studios around the Chicago area. When he finally turned his full-time attention back to sculpting in 1979, he had developed a deep understanding of industrial manufacturing techniques. This drove his creative vision—and the result is something utterly unique in the realm of contemporary sculpture.
Fascinated by the intersection of design and beauty, Robert was absorbed by what moves people in art and sculpture—and then sought to perfect it. While on this lifelong quest, he became a consummate design theorist and visionary, ultimately building a catalog of work arresting in its originality and for its virtuosic blending of art and engineering.
By the early 1990s, Robert's art had begun to earn acclaim with top honors at many of the United States' competitive juried outdoor art shows. His art is in private and corporate collections around the country.
Robert died in 2020. Although he is no longer with us, his art and his pioneering ability to give physical shape to his creative vision is—and can be welcomed into the lives and hearts of a new generation of collectors.
An inventive and innovative process
Robert developed customized manufacturing processes to bring his creative visions to life. Each cast sculpture is constructed of high-tech glass-reinforced epoxy with hollow or polyurethane foam cores finished with a custom solvent-based acrylic lacquer polished to a high gloss.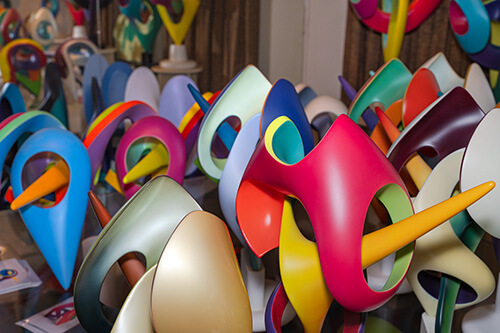 Molded by hand
Each sculpture began as a small clay model, meticulously sculpted by hand until it satisfied Robert's keen, critical eye from every angle.
Enlarged and extrapolated
Robert precisely translated each small model into an enlarged sculptural form using careful mathematical calculations. This rendered the shape and contours of each piece in the correct dimensions using thin rods—all in a time before 3D printing and the advanced CAD tools available today.
Fiberglass mold
As Robert described it, the models at this stage "looked like porcupines." Using plaster over the rods, Robert built the models into the desired shapes and polished them to a perfect finish. Robert then created a fiberglass mold over the plaster, which he removed in pieces and reconstructed.
Layering the sculpture
Once the mold had been built and assembled, Robert poured pliable glass resin into the mold, brushing it on in several layers to the desired thickness of less than ½" and creating a shell within a shell. Once hardened, the fiberglass shell was removed from the mold and constructed into the final form.
Finishing touches
Each sculpture was finished with a gel coat and Robert's own custom-formulated paint in vivid candy-apple colors. The automotive-grade paint was mixed with micronized mica for a singular luster. A final layer of highly polished, industrial-grade wax seals in the brilliant color.
Awards and recognition
Robert Segal's sculpture has been recognized with awards at major outdoor shows around the country, including top honors at:
25th Annual Museum of Art, Las Olas in Fort Lauderdale, FL 1994
Oakbrook Invitational, Oakbrook, IL 1993
36th Annual, Winter Park, FL 1995
29th Annual, St. Augustine, FL 1993
Port Clinton, Highland Park, IL 1994
36th Annual, Madison Art Center, Madison, WI 1994
Cherry Creek, (Denver), CO 1995